Shopping Cart
Your cart is empty
| | | | |
| --- | --- | --- | --- |
| The Distance Travelled: A Little Slice of Heaven (Brett Alexander Savory and Gord Zajac) | | | |
Written by Monica S. Kuebler
Friday, 18 March 2011 05:27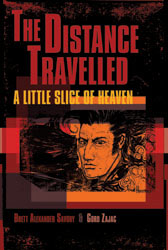 *** OUT OF PRINT, ON SALE ***
THE DISTANCE TRAVELLED: A LITTLE SLICE OF HEAVEN
Brett Alexander Savory & Gord Zajac
Chapbook, 40 pages
ISBN: 978-0-9739231-3-1
$6.00 USD (orig. $8.00)

Why are there no shoes in the afterlife? What's the deal with mystical cats always trying to save the world? What's a growl-quack sound like? What does Jesus really look like? How did Pigboy survive his bath in the flame pit? What's all this crap about Hell having a basement? Did any of you even read the first novel? Why are there so many rabbits in heaven? Was it some sort of invasion? Did they stage a coup? And who the hell is this Gord Zajac chimp, anyway?

The answers to these and many other incredibly unimportant questions are answered within the pages of this hilarious yet poignant novella - the official sequel to Brett Alexander Savory's 2006 runaway smash hit bestseller The Distance Travelled, which was also hilarious yet poignant. But longer. And released by a different publisher. And by "runaway smash hit bestseller," we mean "not even selling out of its limited edition 400-copy print run.
REVIEWS:
"Stu is stuck in limbo and bored out of his skull with no one to talk to, no TV, radio or any other type of entertainment. Out the blue appears a scraggy old cat called 'Old Tom'. Without question Stu puts all of his trust in Old Tom and allows him to lead him down an unknown path. A path that ends up being 'Heaven'. Could Stu finding his way to heaven have been a mistake? I'm not going to let you know, you have to pick up a copy of The Distance Travelled: A Little Slice of Heaven, to find out. Cleverly written by co-authors Brett Alexander Savory and Gord Zajac, this is a chapbook everyone should read. I am a personal fan of other people's points of view of what they think heaven, hell and limbo are and this one is exceptional. Written with the same biting humour as [Christopher Moore's] Lamb,The Distance Travelled, takes you down a road to a very different type of adventure, though I wish someone would explain why there are so many rabbits in heaven. If this is any indication of the quality of chapbooks we will be seeing in the future from Burning Effigy Press, then I'm making sure I'm on their mailing list." - Carolina Smart, LipstikIndie.com
Last Updated on Wednesday, 11 May 2011 01:49